Who We Are
Vermont Swings is a nonprofit group lead by a great team of board members who volunteer their time to further their love of swing dancing.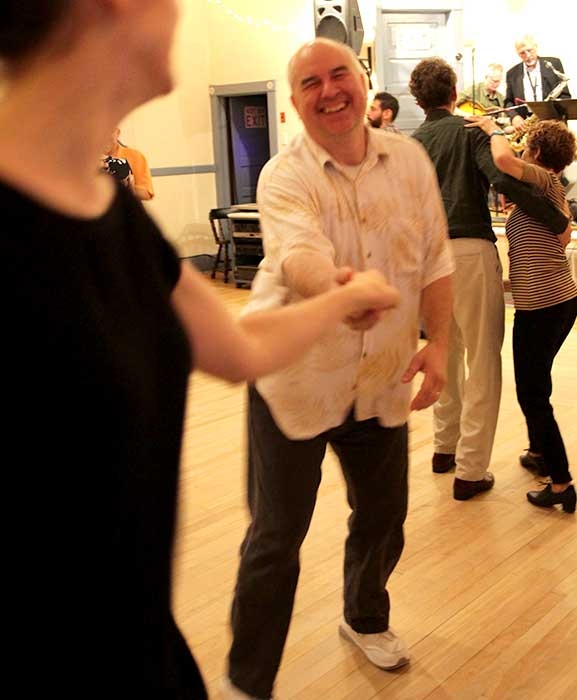 Instructor / DJ / Co-treasurer

A swing dancer since 2002, John has taken classes with top instructors from around the world and travels to many events, returning with new moves and excitement for whatever event is next. Known for his easygoing classes, he enthusiastically helps others learn, in a friendly and comfortable atmosphere. John has been serving as DJ for several years and always has an ear open for new music. You can find him at virtually every Vermont Swings practice session, event, and class.
Instructor / DJ / DJ Coordinator

After attending a Saturday dance at the Champlain Club, Michael started swing dancing in 2005. He took the beginner class and "never stopped coming." Over the years, he has attended a number of swing dance events, including Swing Out New Hampshire and Cat's Corner dances in Montreal, and all the classes hosted by Vermont Swings. "Dancing," he says, "allows me to feel the music as well as hear it. I feel almost like a musician, but without playing an instrument." Swing, like the jazz music it's danced to, has a form and structure that allows improvisation and expression. Michael enjoys all styles of swing dance, but has particular affection for Lindy Hop and Blues dancing. He has DJed Vermont Swings events since 2008, and his playlists reflect his love for classic and modern swing dance tunes with occasional forays into pop, soul, blues, and country-swing. He began instructing in 2012 and teaches beginner level courses.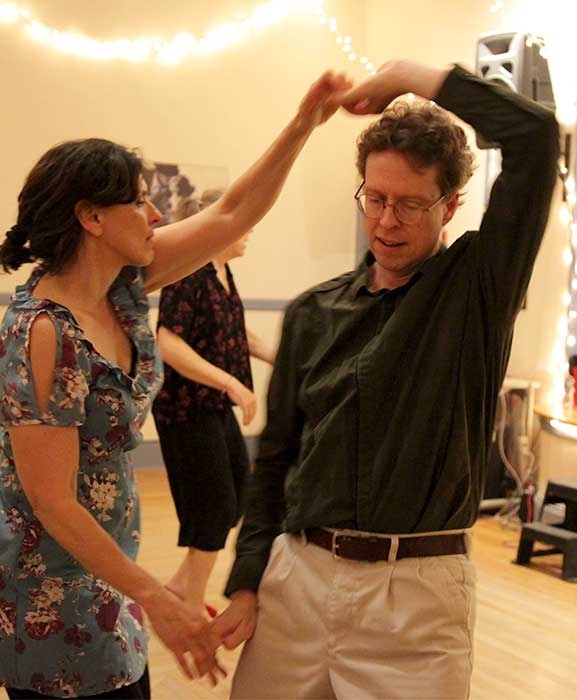 Instructor / DJ

Terry has taught thousands of students the basics of East Coast swing in Vermont since 1983. Students appreciate his detailed break-down of moves and fun style of teaching. While he dabbles with other dance styles, including various ballroom dances and Argentine Tango, swing is his mainstay. In addition to his passion for social dancing and local politics, Terry spends a great deal of time as a house husband, and along with his wife and dance partner, Cate, raising their two children.
Event Coordinator / Hospitality and Community Outreach

Betsy started taking lessons at VS in 2008, and she hasn't stopped yet. "Swing Dancing has become one of the most important things in my life; it helps keep me alive, in many ways." Betsy is a regular greeter at VS dances and a volunteer for VS classes and events. Due to a desire to do more to bring VS to more people, and more people to VS, she joined the VS Board in 2018. "I can't think of a better way to give back to such a wonderful community. See you on the dance floor!"
INSTRUCTOR / DJ / SOCIAL MEDIA COORDINATOR

In 2002 Mo agreed to accompany a friend to a beginning swing dance class in San Francisco. Having grown up in a musician's household, she was raised on the sounds of the big band and vocal standards from the 1920s to '50s and was excited to finally learn how to dance to those melodies and rhythms. Soon, she was regularly attending classes, dances, and clubs and performing. In addition to swing dancing, she has taken classes in ballroom, tap, jazz, and Latin styles, but always felt a sense of home in swing, especially Lindy Hop. Moving to Vermont in 2006, Mo was thrilled to find a vibrant and friendly swing dancing community in Burlington, even if she had to drive an hour to get there! After moving a little closer, she started teaching classes in 2009. Since 2002, she has participated in many workshops, camps, exchanges, and social dances in an effort to continually expand her skills and knowledge. One of the things she loves the most about swing dancing is the exploration of great music and the friendly people she meets in the swing dance communities that are found wherever she travels. Mo is a regular DJ for both swing and Blues dances and currently teaches classes covering East Coast Swing, Lindy Hop, Balboa, and Blues.
Member

Sarah King has been dancing her whole life, but her first experience swing dancing was in a high school gym class in 2009. At college in Poughkeepsie, the local swing dance was only a short walk from her dorm, so Sarah got lots of practice social dancing when quick "study breaks" would frequently turn into joyful hours of dancing. When she came back to VT on college breaks, and later moved back to the state, Vermont Swings became her new swing dance home. She became a member of the Vermont Swings board in 2018. By day, Sarah is an elementary school teacher. The rest of the time, Sarah loves all sorts of dancing, particularly partner dancing, more particularly swing dancing, and even more particularly Lindy Hop and Collegiate Shag. Sarah always enjoys the chance to enthusiastically welcome newcomers to the Vermont Swings community!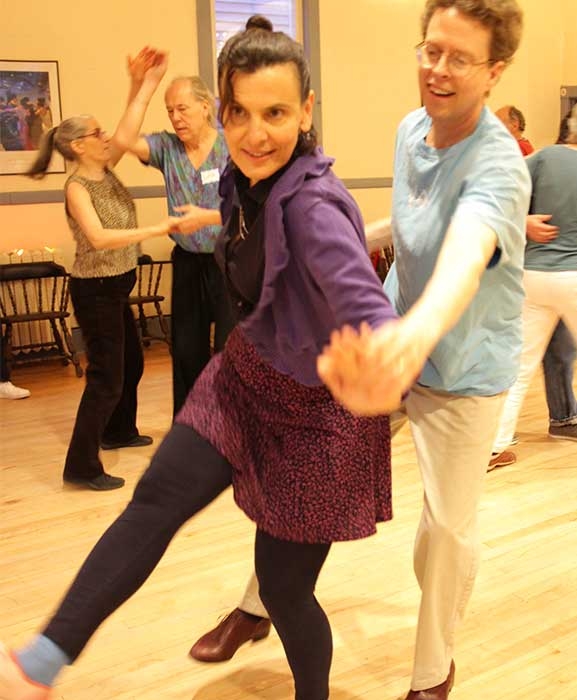 INSTRUCTOR / CO-TREASURER / BAND COORDINATOR

Cate met her husband, Terry Bouricius, while a student in his Latin ballroom dance class in 1988. Shortly thereafter, Terry taught Cate East Swing and they have been swing dancing together ever since. They began Lindy in 1993 on their honeymoon in Seattle, WA. Cate works as a middle school teacher, co-teaches many of our dance lessons with Terry, and is Vermont Swings band coordinator and co-treasurer.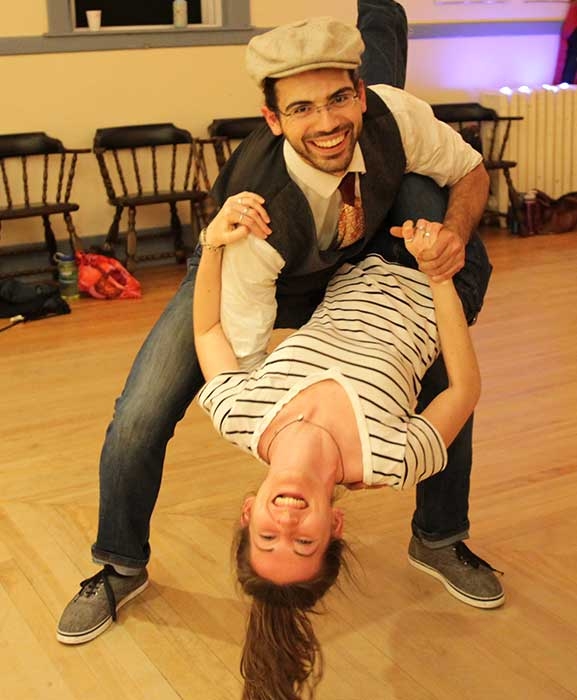 INSTRUCTOR / DJ

Eric moved to Vermont in July, 2015 from the small, Northern California town of Arcata, where he lived for 5 years. He first began swing dancing in the same small town after taking a class at Humboldt State University in the fall of 2013, and has been swing dancing practically non-stop since. His favorite dances are Lindy Hop and Collegiate Shag, and in addition to swing he sometimes enjoys dancing salsa, bachata, and kizomba. He is aspiring to earn a Ph.D in economics from the University of Vermont, and when he's not teaching or dancing, you can frequently find him drumming, biking, hiking, sailing, or volunteering with a local community organization.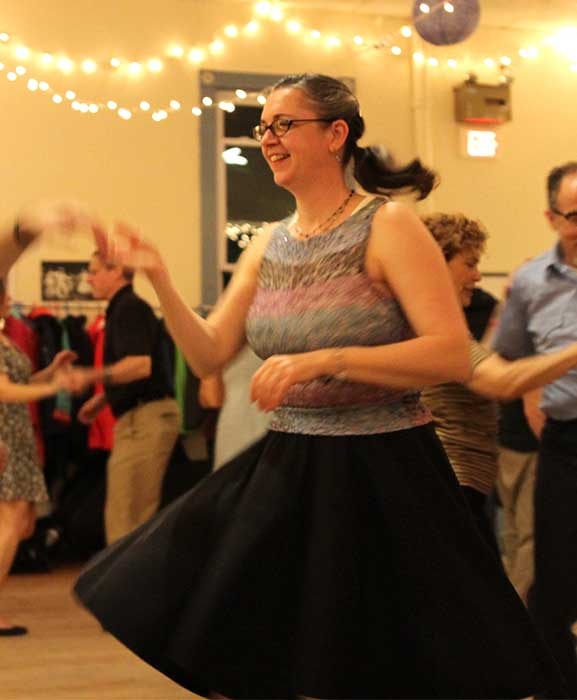 Instructor / DJ / Communications Coordinator

Jean Elizabeth started social/partner dancing in 1995 in Philadelphia. She has served on the board of the Philadelphia Swing Dance Society and the Connecticut Swing Dance Society and has been a member of the Vermont Swings board since 2013. Serving as an instructor, DJ, and dance coordinator for Vermont Swings, Jean Elizabeth also teaches East Coast Swing, Texas Two Step, Waltz, and Latin dancing. She works with bands (Starline Rhythm Boys; Big Hat, No Cattle; and Girl Howdy) at public and private gigs to get the dancing started with preshow lessons. Jean Elizabeth is known for her unique dance style and sense of rhythm and musicality, enjoying the chance to be a catalyst for dancing wherever music can be found.

Subscribe to Vermont Swings
Receive up-to-date information about our dances and events.